Now it's time to create our first Game. A Game in the ZEBEDEE Dashboard represents an Entity that has a unique API Key to perform requests against the ZEBEDEE services. With this API Key you can receive funds, make payments, and withdraw funds -- the same exact flows we just went through in the previous 4 sections, except this time around it is fully programmable with code.
Let's begin by heading over to the Games screen through the sidebar menu.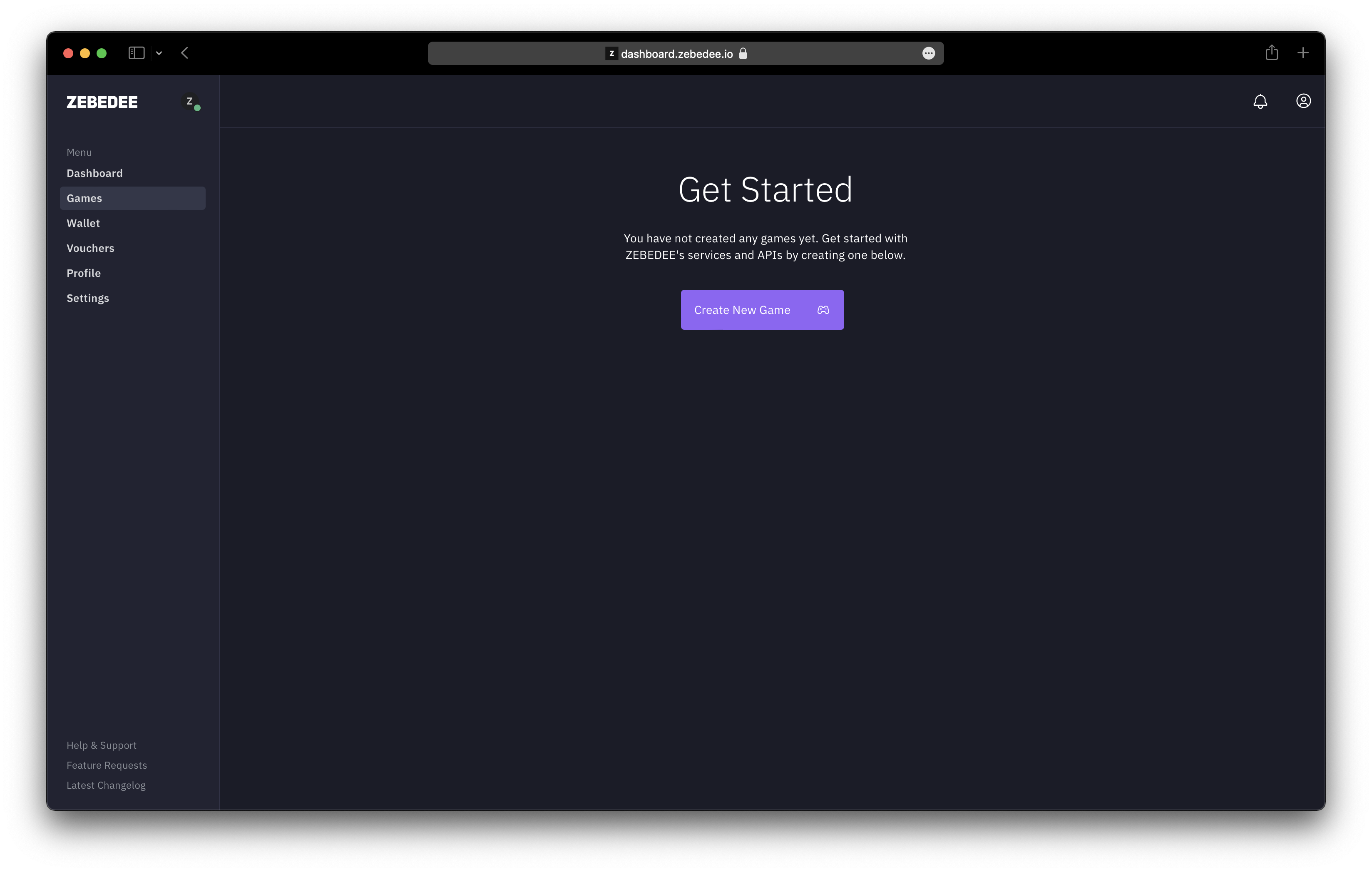 ZEBEDEE Developers | Games
If this is your first Game in the platform, you will see an empty screen asking you to create a Game to continue. Let's go ahead and do that.
Click on the Create Game button. You should land on a New Game form like the one seen below.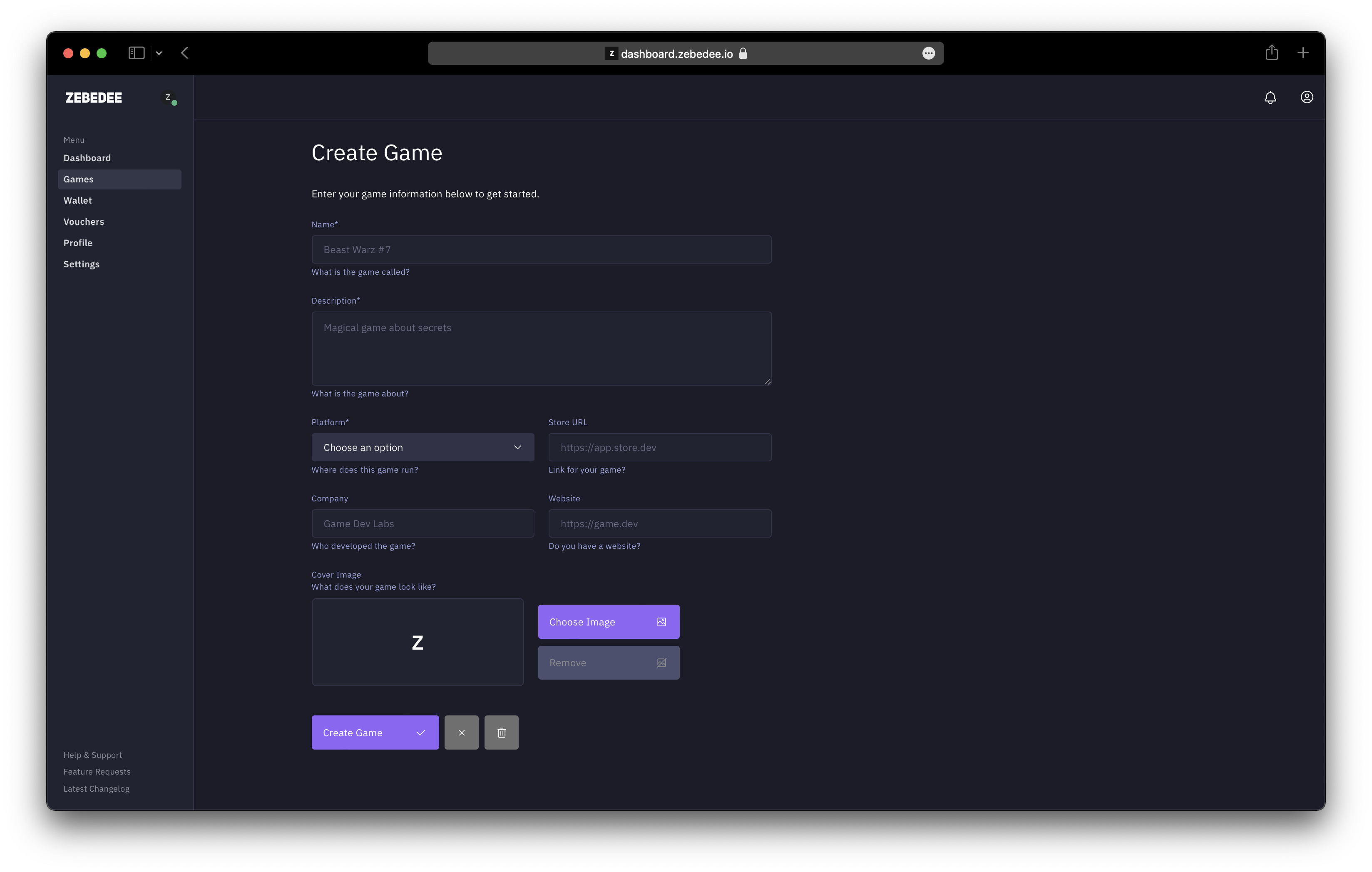 ZEBEDEE Developers | Create Game Form
Fill out the information as you see fit. The title, description and platform fields are the only required one. The rest are optional, including the Game image.
Once you've entered the information about your new Game, hit the Create Game submit button.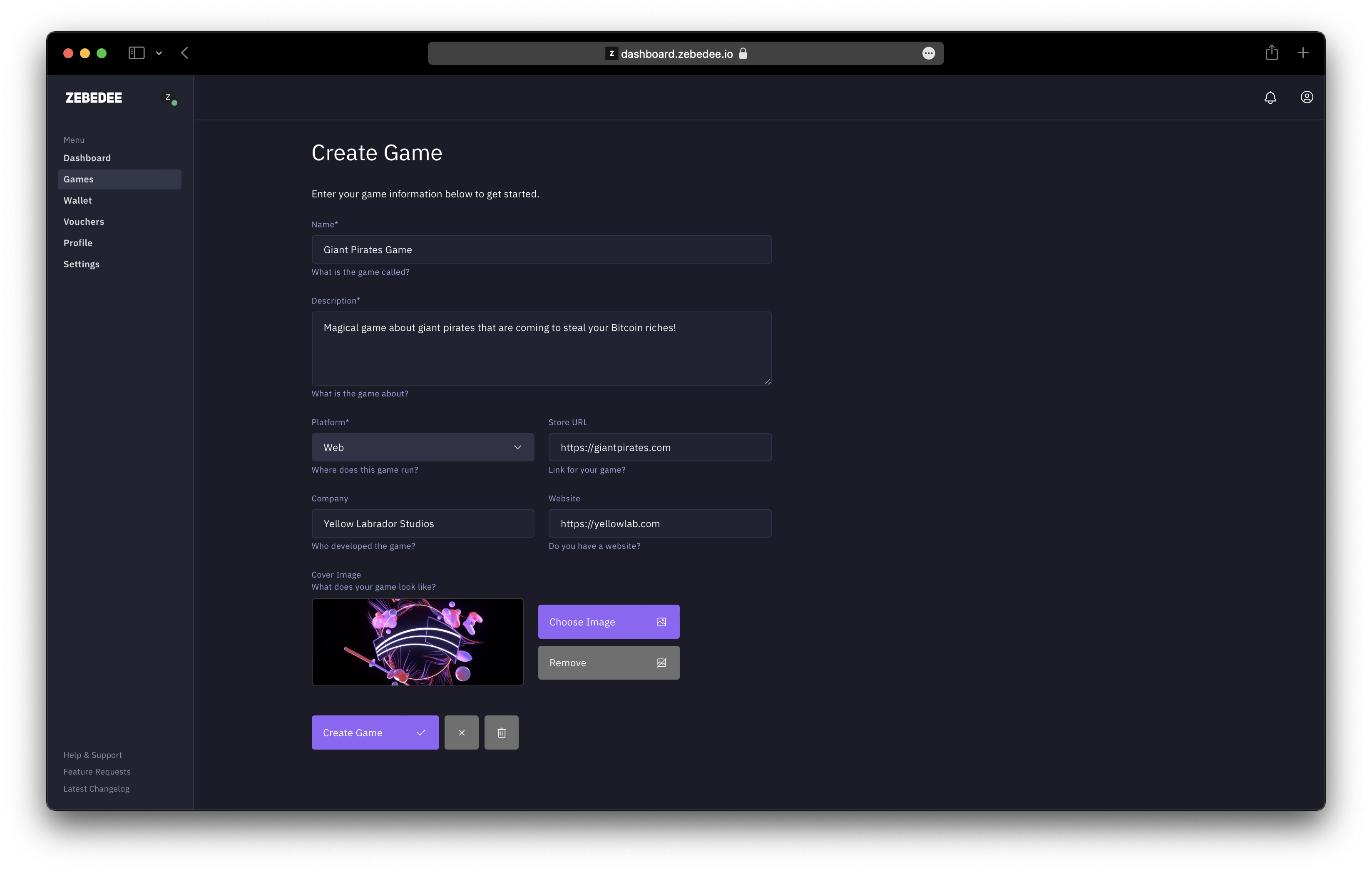 ZEBEDEE Developers | Create Game Form
You will then be routed to your Game details screen. In here you will have access to all the information regarding all of the micropayment transactions performed in your Game, including transaction history, statistics, API Keys, and analytics (coming soon). Feel free to browse around to get a feel of what information is available to you.
As you'd expect, the numbers are all 0 given we just created this Game.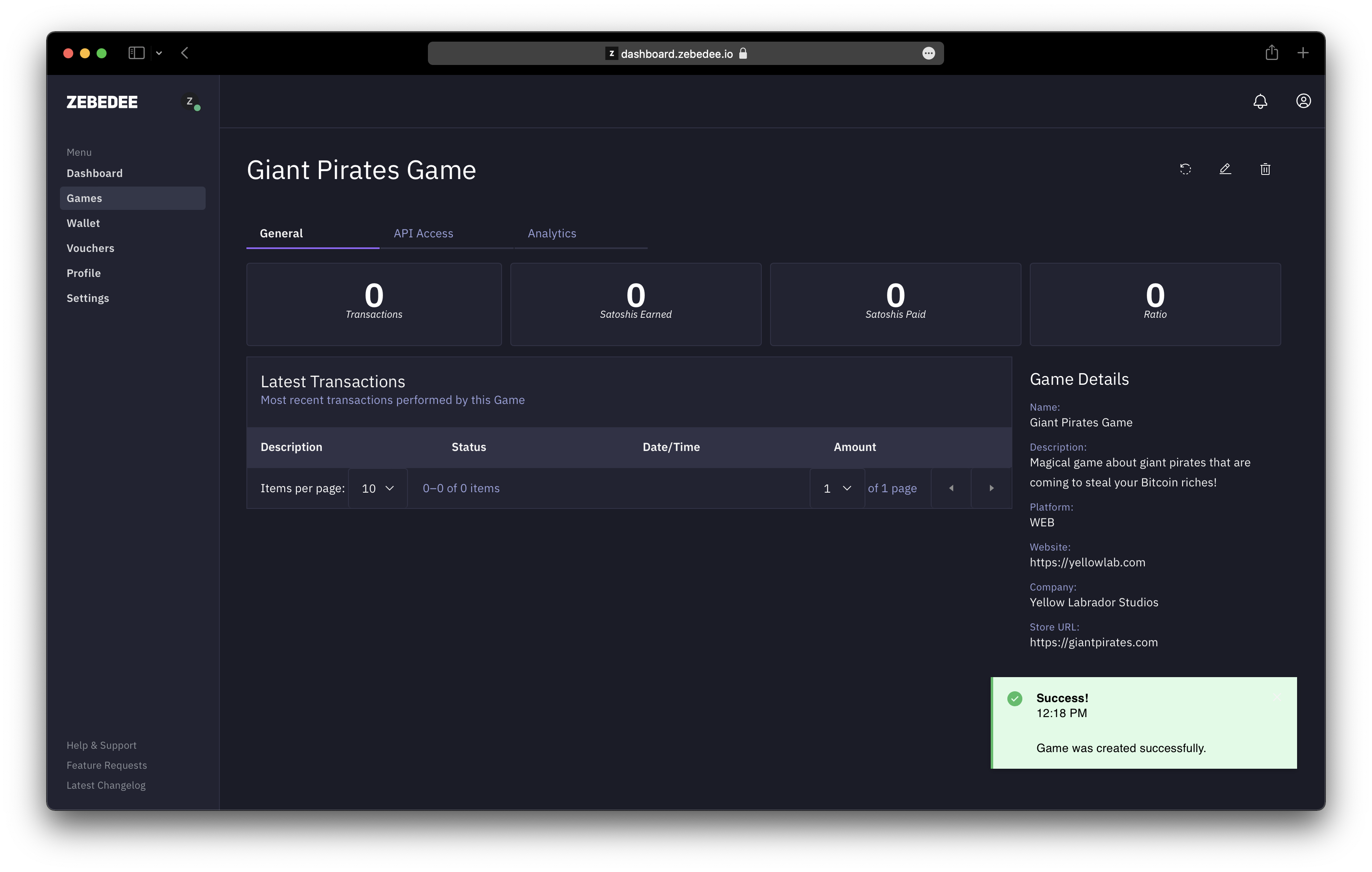 ZEBEDEE Developers | Game Details
The part that we're interested in this case is the API Access tab. In this tab you will find your Game's unique API Key, the ability to regenerate the Key, and some links to guides and documentation pages to learn more about the API. (Hint: you're reading it right now.)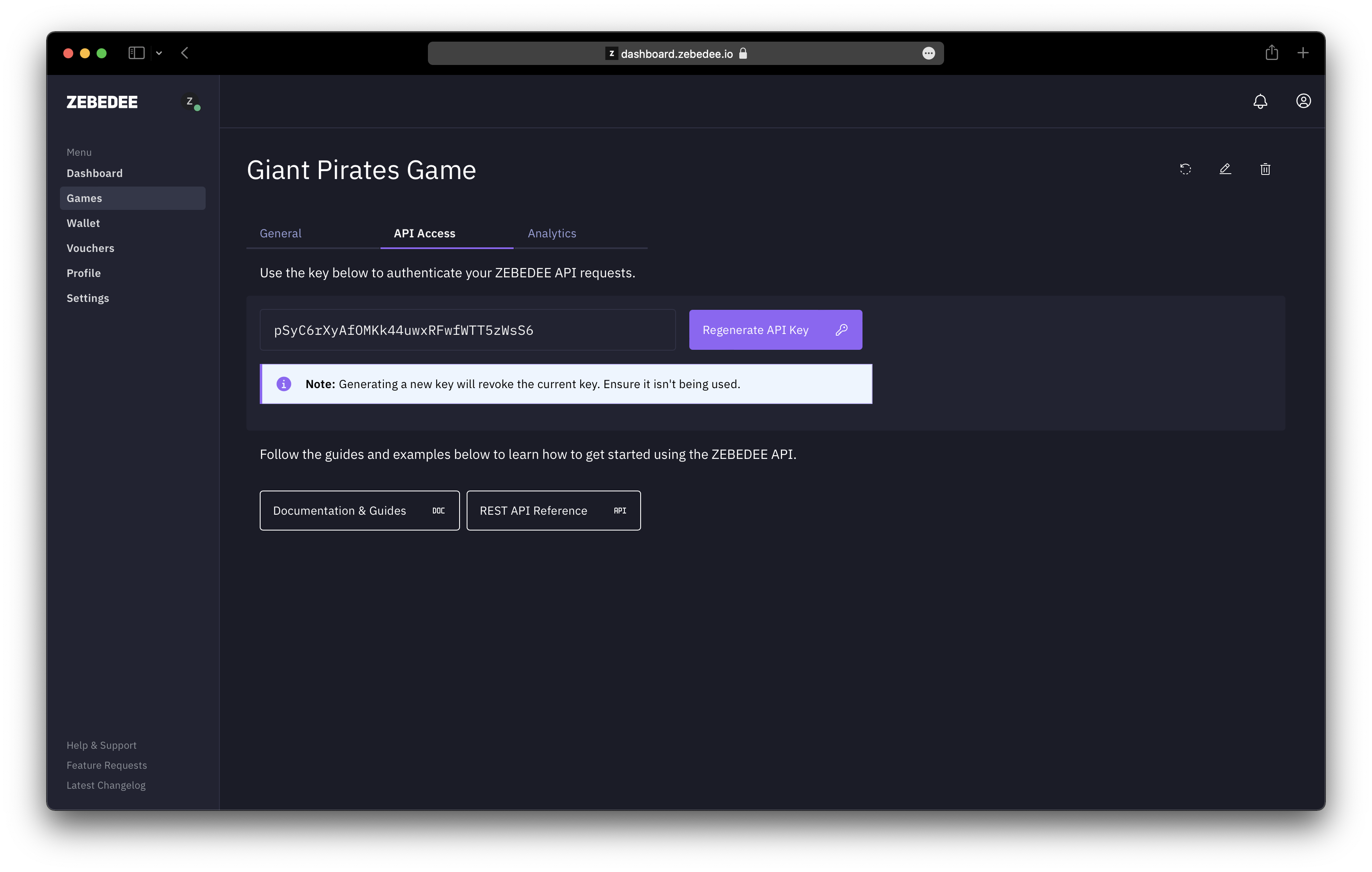 ZEBEDEE Developers | Wallet
Now that you've successfully created a Game and retrieved your API Key, how do we use this Key exactly? I know you're eager to hit the ground running, but let's first take a few seconds to understand the many Entities this API Key gives you access to, and how to go about properly using our Key to allow for Bitcoin micropayments in your game.