Your ZEBEDEE Developer Wallet is a fully-functional spec-compliant Lightning Network Wallet. We've already shown how to receive/request funds, let's now perform some payments through the Wallet interface in the Dashboard.
Let's head on to the Wallet view on the ZEBEDEE Developer Dashboard. Select the Pay Invoice button.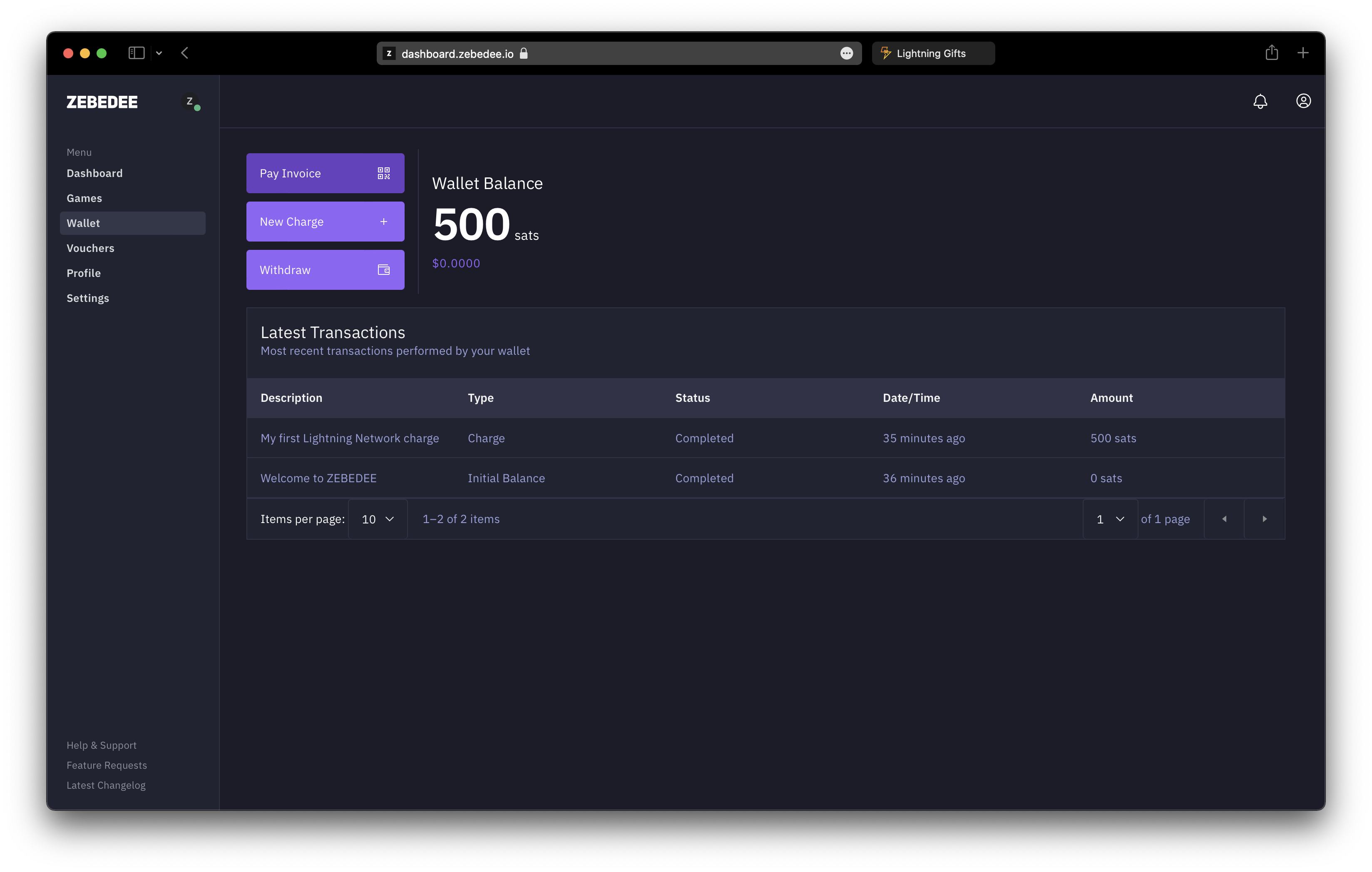 ZEBEDEE Developers | Wallet
You should now see a form like the one seen on the image below. This allows you to paste Invoices from any Bitcoin Lightning services, and pay that Invoice instantly.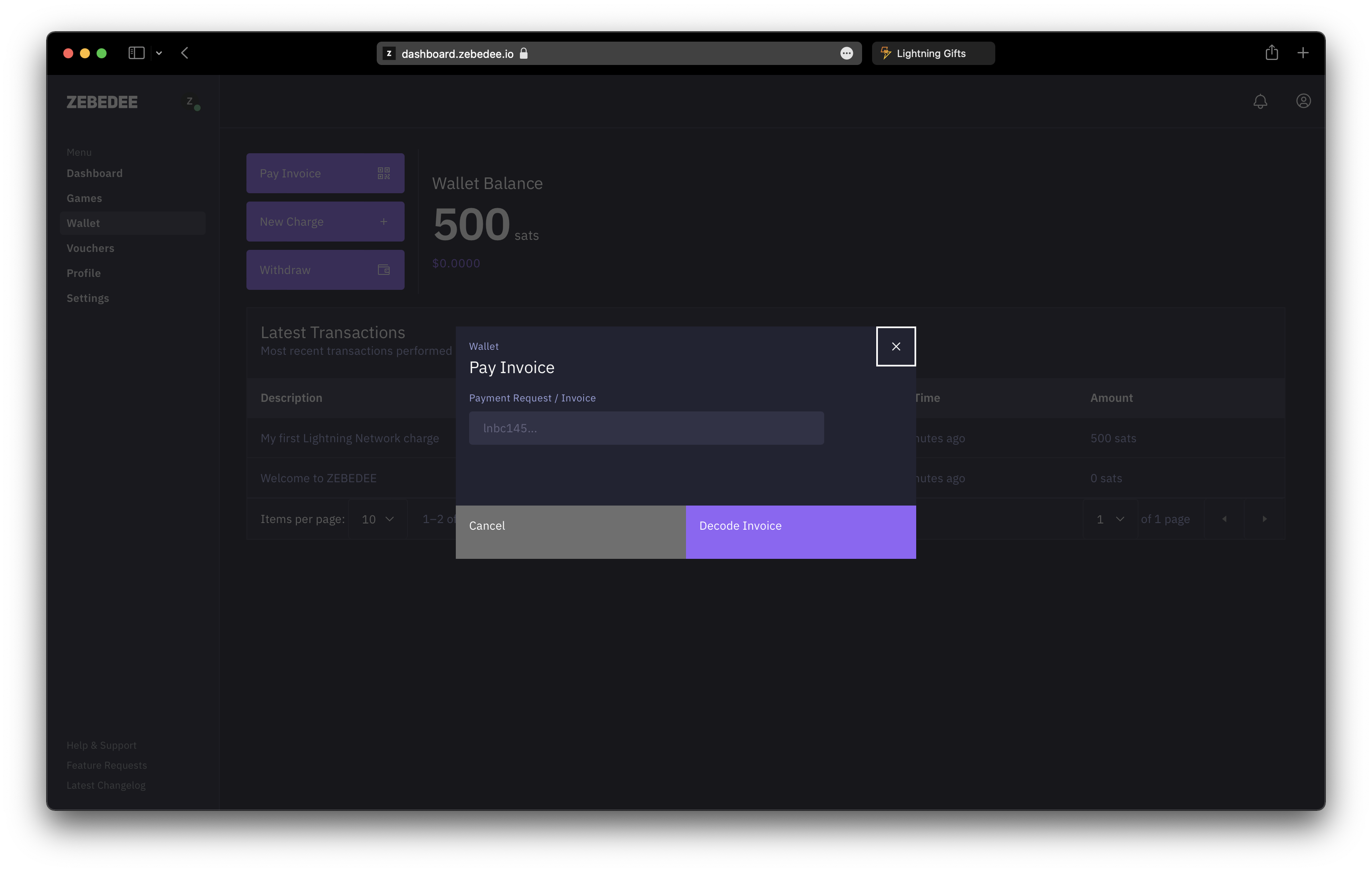 ZEBEDEE Developers | Pay Invoice Form
Let's now find a suitable Bitcoin Lightning service to get an Invoice from.
Lightning Gifts is a great proof-of-concept on how to easily gift someone Bitcoin over the Lightning Network. In the case of Lightning Gifts, you are paying a 100 satoshi Invoice in order to create a QR code that you can send anyone, who can then claim those 100 satoshi gifts.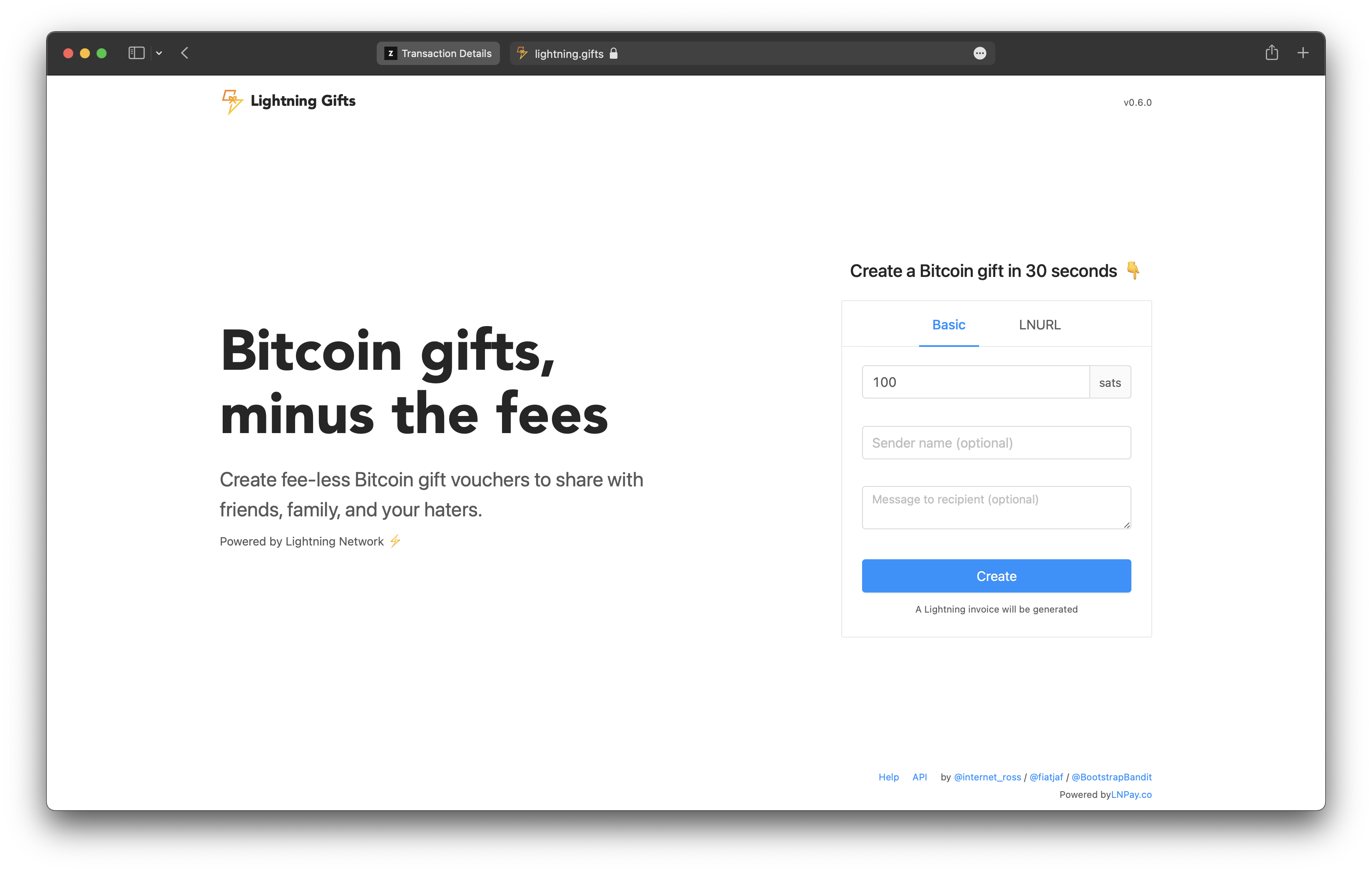 Lightning Gifts
Once you click the CREATE button on the Lightning Gifts page, you'll be prompted to effect a payment of a 100 satoshi Invoice. While you can use any Bitcoin Lightning Wallet to pay for it, we want to make use of the ZEBEDEE Developer Wallet. So instead of scanning the QR code with one of our mobile wallets, we're going to copy the Invoice code itself, and use it on the Dashboard Wallet.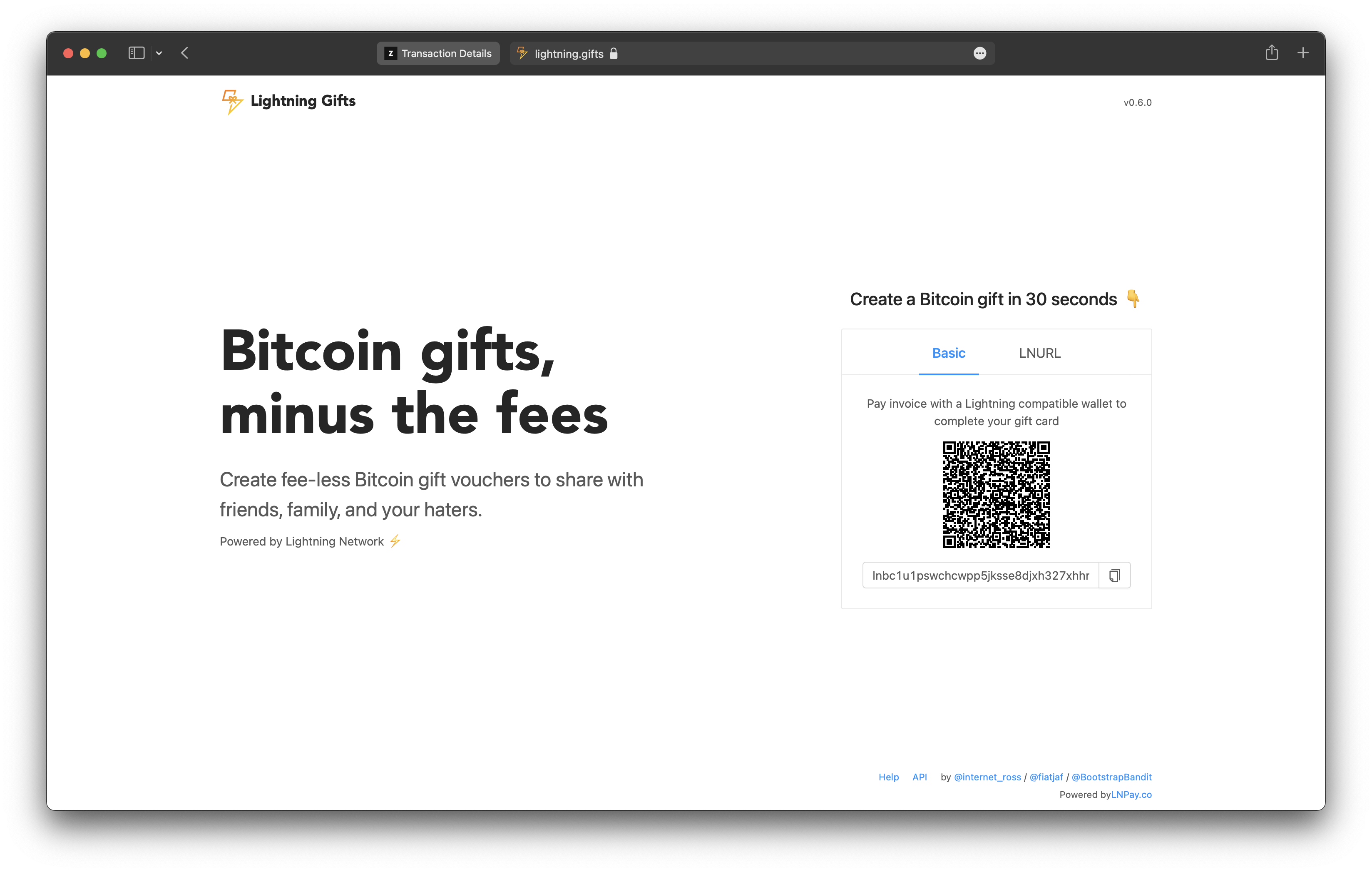 Lightning Gifts | Pay Invoice
Click on the COPY button of that form, and then head back to our ZEBEDEE Pay Invoice form and paste the Invoice code in the input field.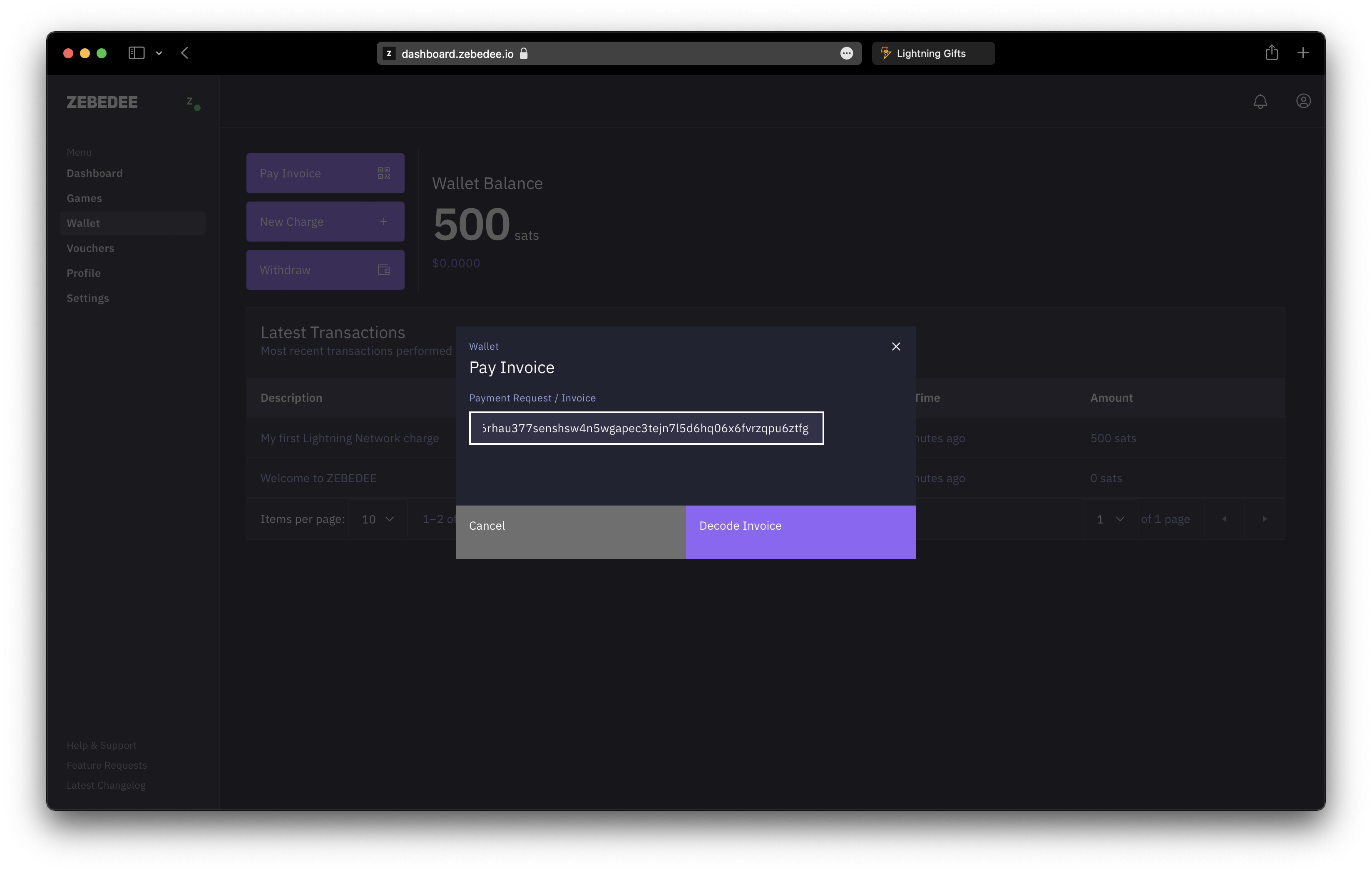 ZEBEDEE Developers | Pay Invoice Form
First thing you'll notice is that the Submit button is not to Pay Invoice, but rather Decode Invoice. The idea is that the Wallet is going to read this Invoice and decode its contents, and then display them in a friendly manner for you to verify the Invoice payment you're attempting to make.
Now that you've clicked to Decode Invoice you should see the details of the decoded Invoice laid out for you. The Wallet is smart enough that if the Invoice has expired, or you do not have enough funds to perform the payment, it will not allow you to attempt the payment.
Once verified and everything looks good, hit the Confirm & Pay button.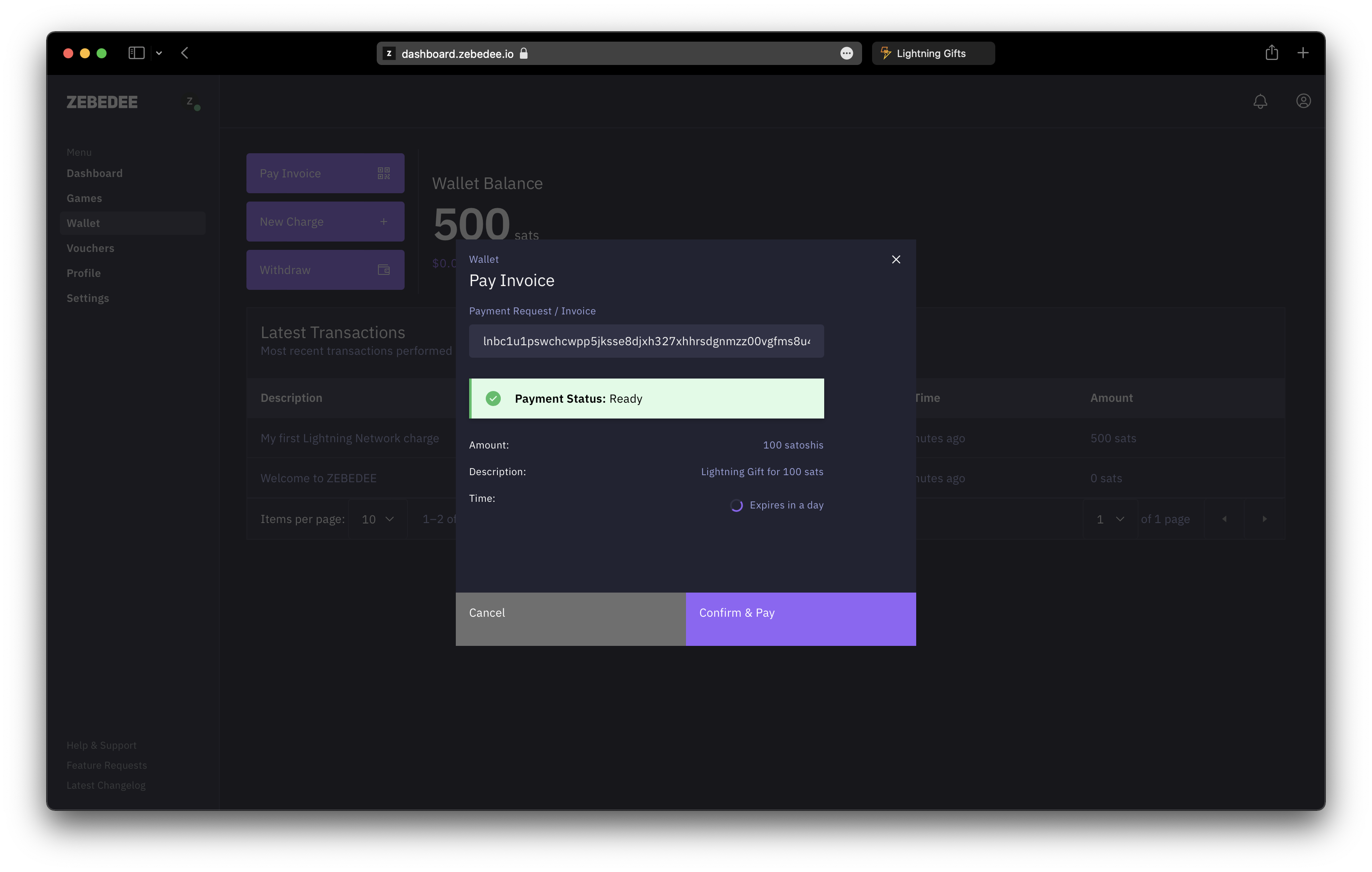 ZEBEDEE Developers | Verify Invoice Payment Details
Invoice payments tend to settle almost instantaneously, but depending on the connectivity of the receiving service (in this case Lightning Gifts) the payment can take a few seconds longer.
If there's an error, you will be presented with some details as to what the issue is. If it's successful, the Wallet will route you away from the payment form and show you a success message alongside your new Wallet balance.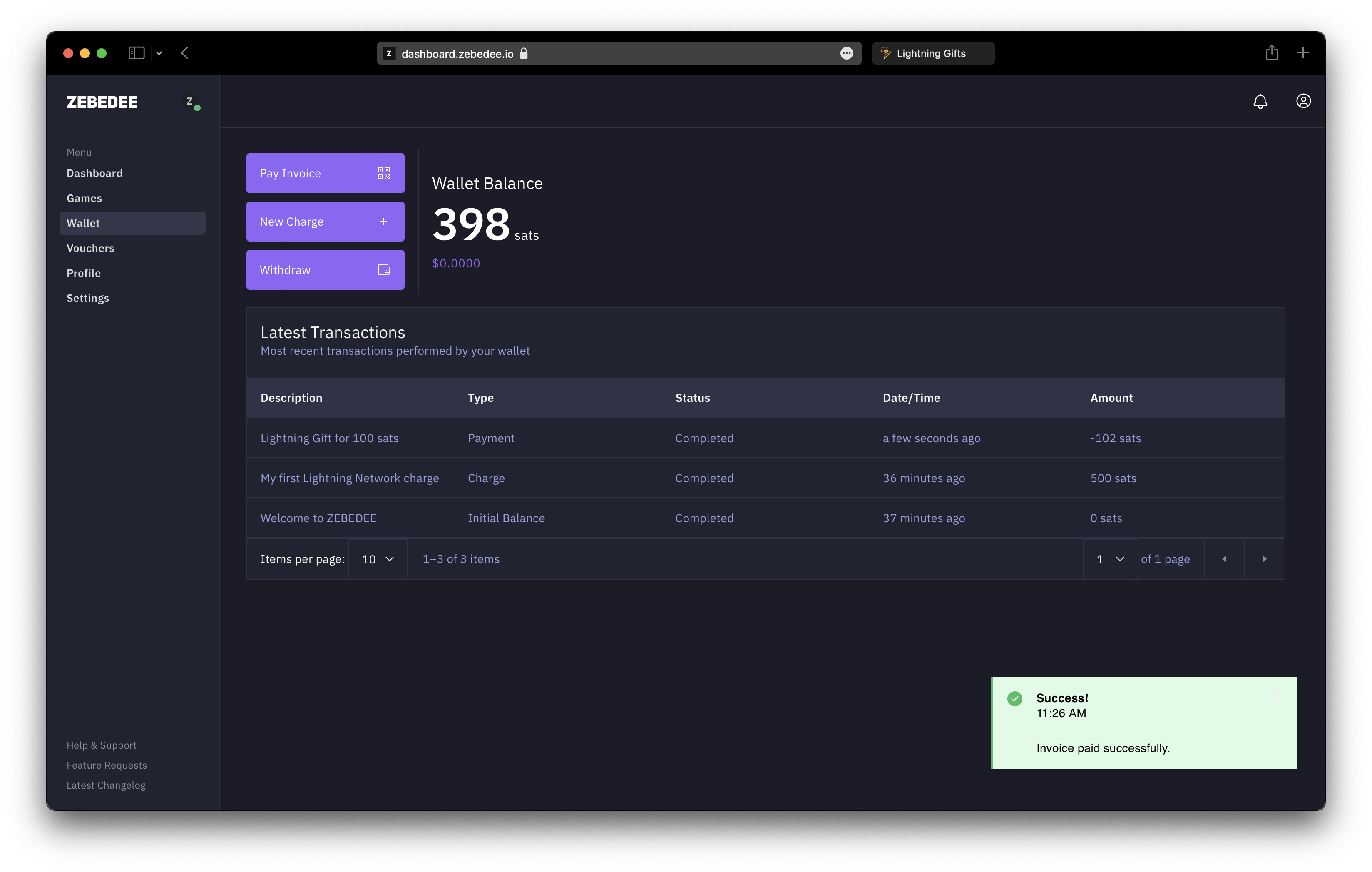 ZEBEDEE Developers | Payment Successful
Hooray!