As briefly mentioned in the last section, your ZEBEDEE account comes with a fully-programmable Bitcoin Lightning Network wallet. What this means is that you can essentially plug this Wallet into any (and all) of your Games and it can perform any sending/receiving/paying of satoshis across your Game.
Receiving Payments
While this depends on the specific integration you have in your Game, most Games will need to send money to players at some point. And you cannot send funds to a player, if you have 0 satoshis to send. With that in mind let's walk through requesting a payment from the main Developer Wallet.
Head on over to the Wallet screen through the sidebar menu.
If you happen to be an early tester, you may actually see some funds in your Wallet as every new user receives some satoshis on signup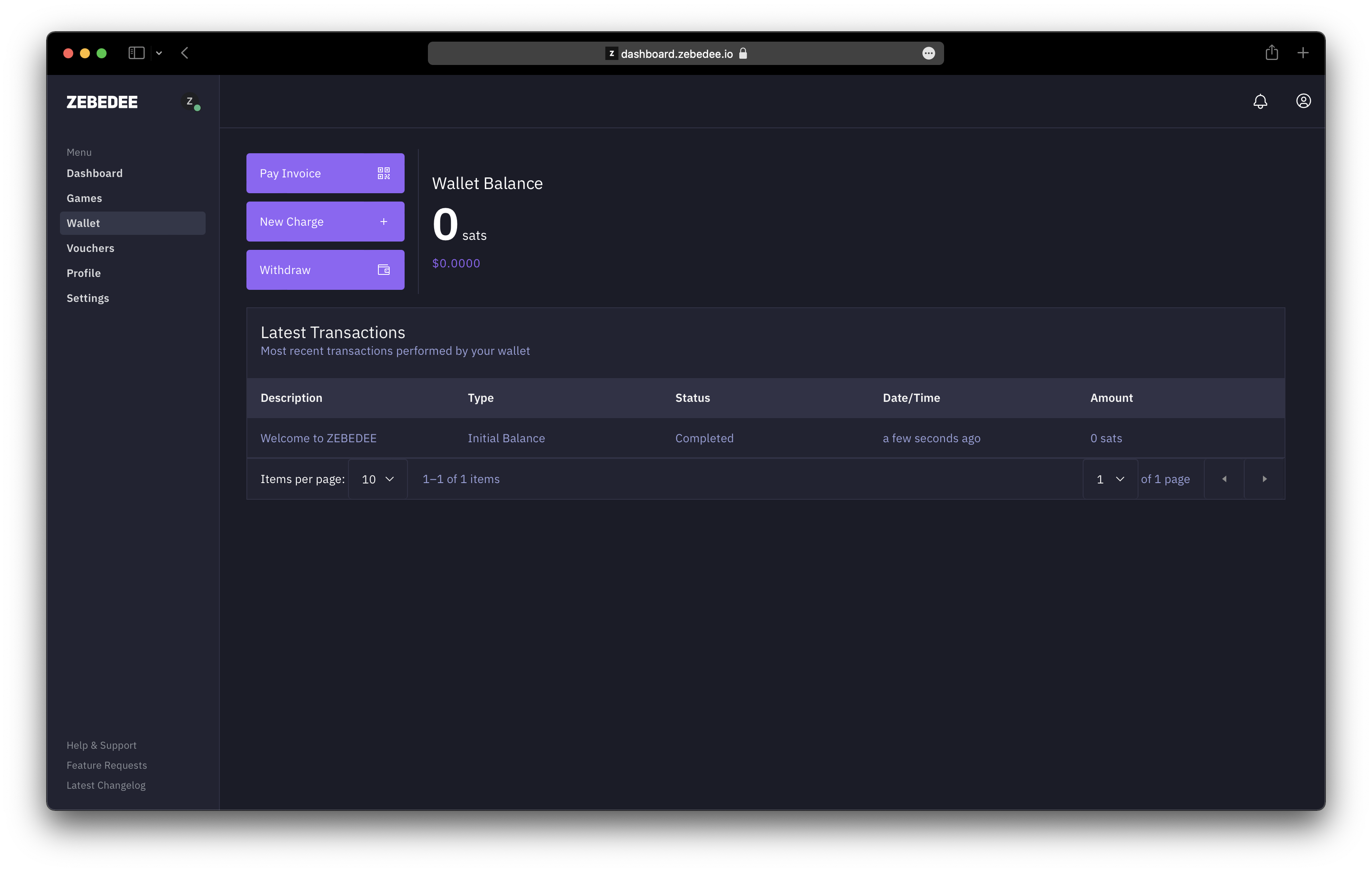 ZEBEDEE Developers | Wallet
Choose the New Charge button in your Wallet view.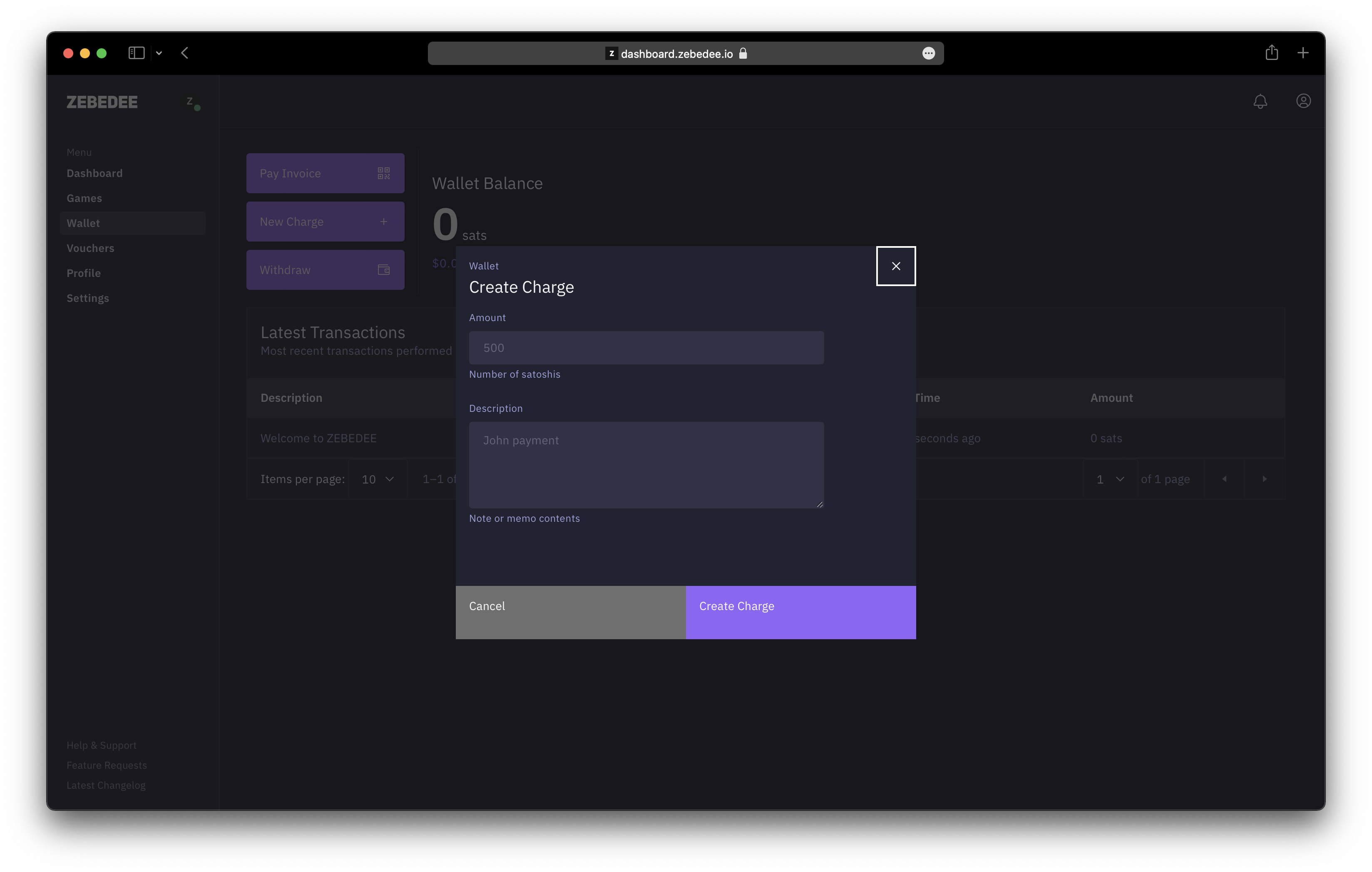 ZEBEDEE Developers | New Charge
You will be asked to provide an amount for the Charge, as well as an optional description. The description can be useful when you look back into transaction history.
important
The amount value is in satoshis. Remember that 1 satoshi = 0.00000001 BTC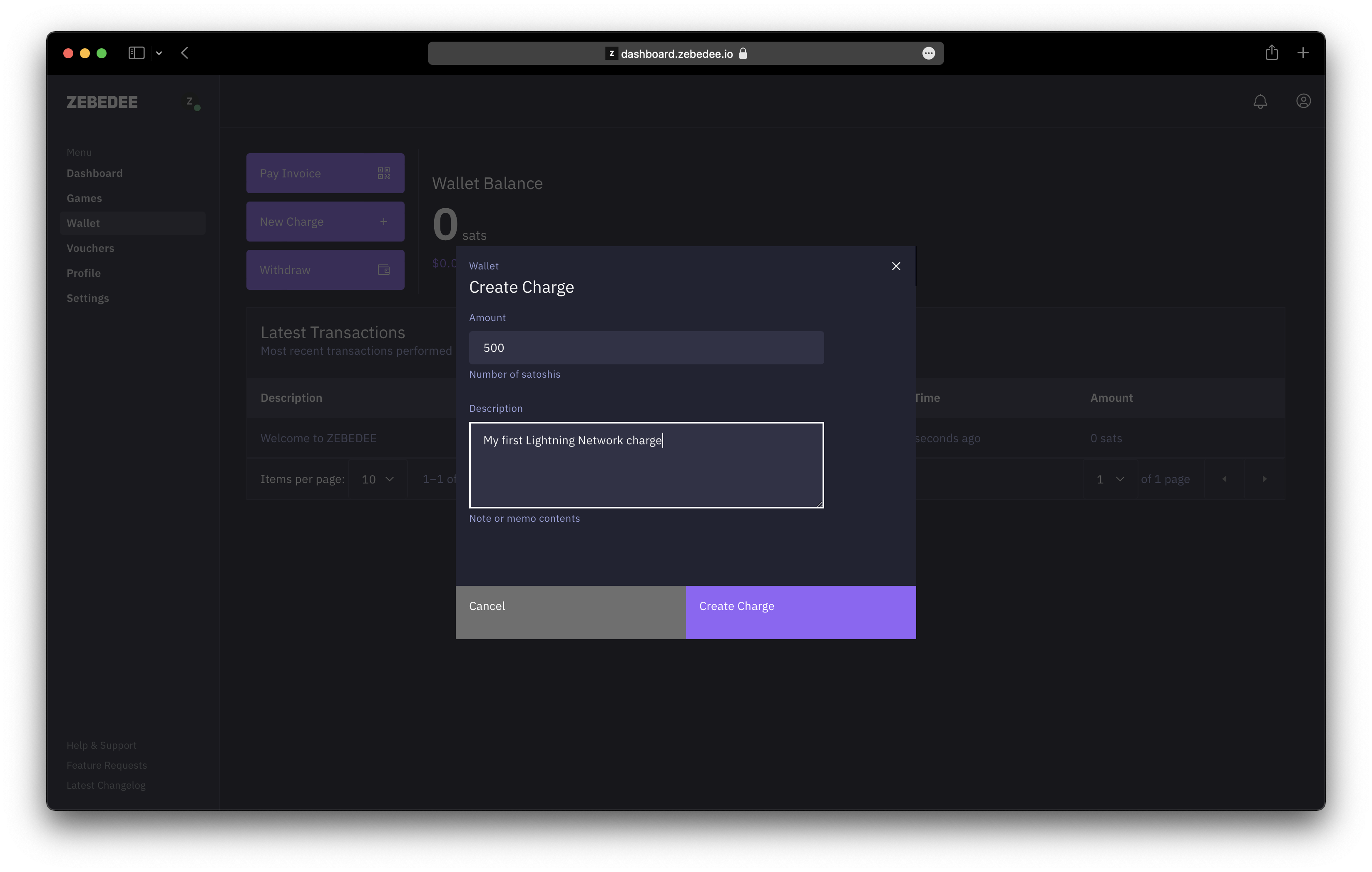 ZEBEDEE Developers | New Charge
Once you're ready, you can go ahead and press the Submit button. Once the request is returned from the ZEBEDEE servers, you should see a QR code screen like the one below: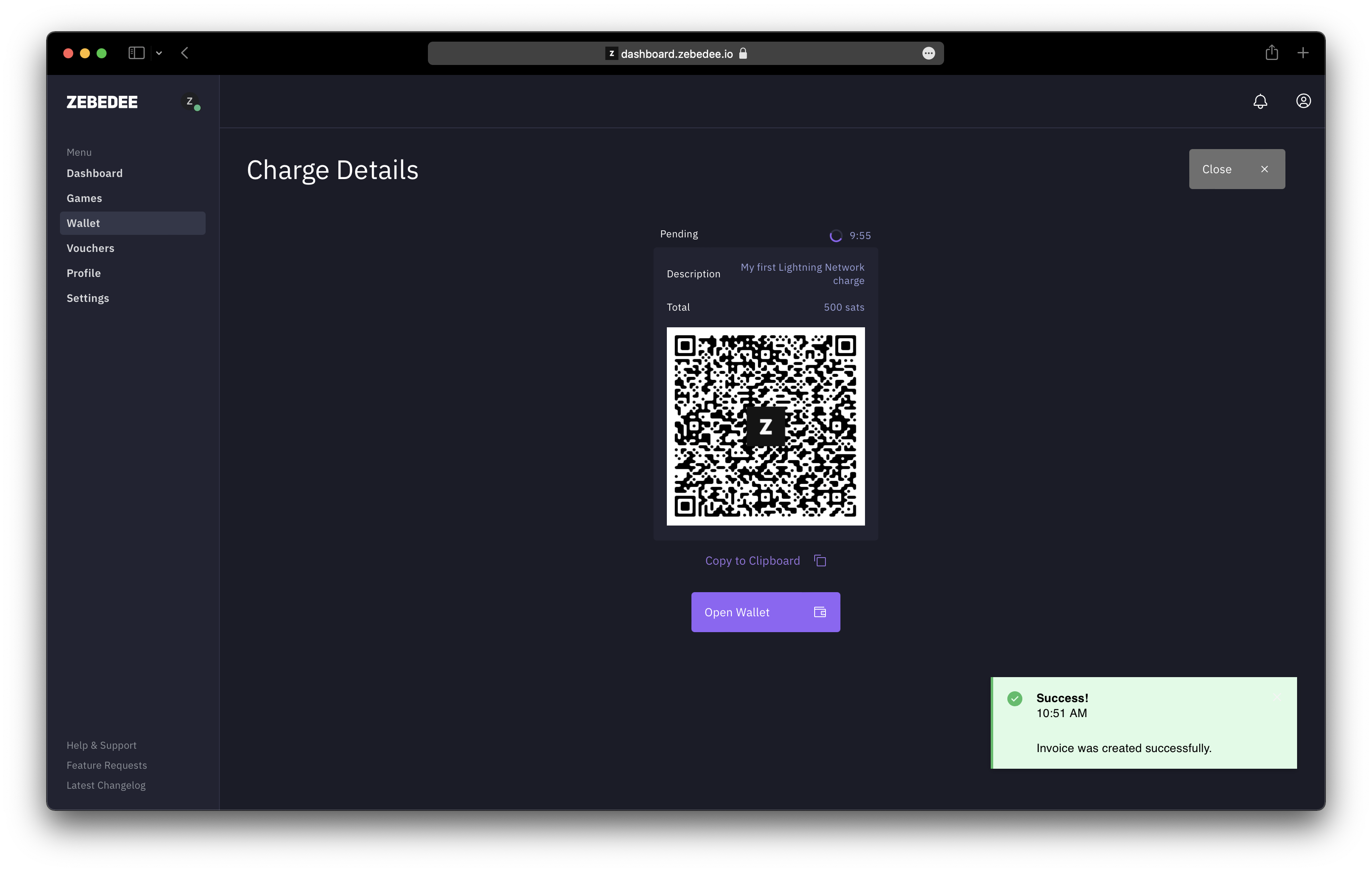 ZEBEDEE Developers | Charge QR Code
Your charge has now been created! The next step would be to pay this Charge. This would effectively fund your ZEBEDEE Developer Dashboard Wallet.
tip
Just a reminder that this QR Code can be paid for by any Bitcoin Lightning Wallet.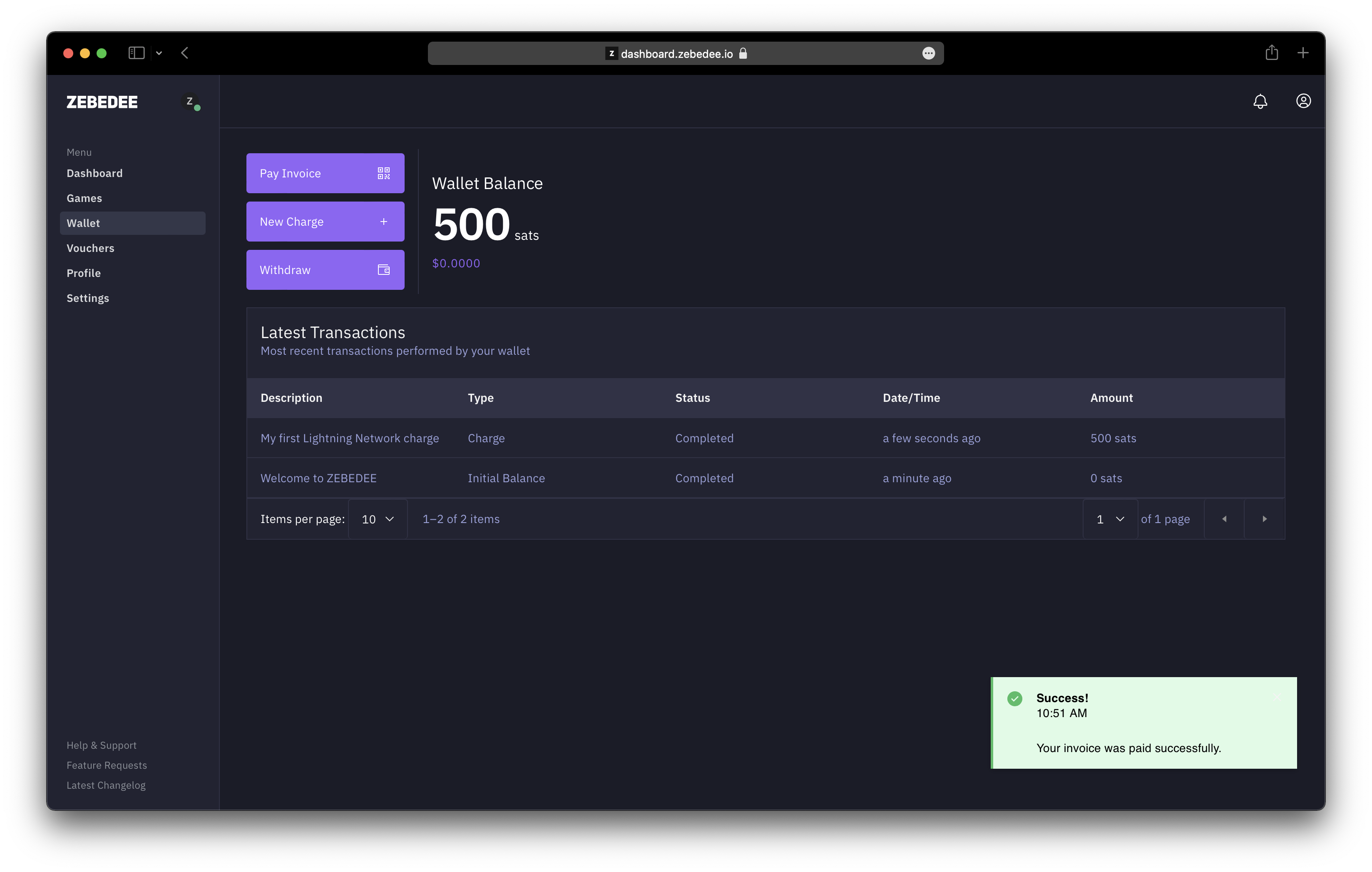 ZEBEDEE Developers | Wallet
Once the payment is made, the page will automatically take you to the main Wallet view with the resulting additional funds applied to your balance. It's really that quick and easy! If you'd like to see more details about this transaction, click on the transaction list item in the table of transactions.
And that is how we go about receiving Lightning payments through the ZEBEDEE Developer Dashboard. Let's now see how to go about making payments.